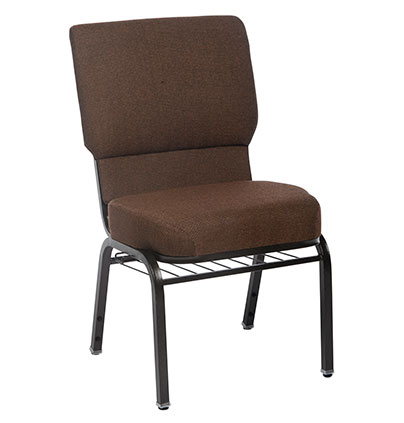 View Detailed Specifications
Celebration PewChair™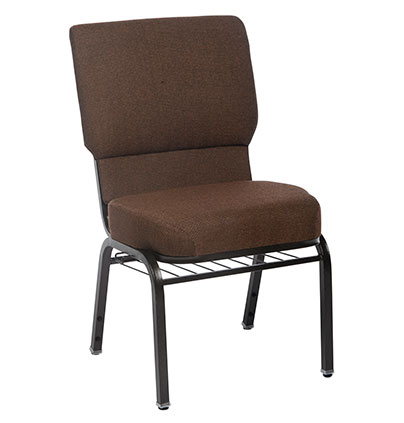 View Detailed Specifications
MoistureBarrier™ Fabric Treatment to protect your chairs from spills and accidents now INCLUDED AT NO ADDITIONAL COST ON ALL OF OUR POPULAR FABRIC CHOICES.
Space Saving Design with Big Chair Comfort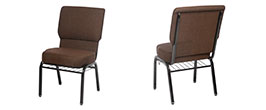 The Celebration PewChair™ is designed to allow extra space in your sanctuary while maintaining big chair comfort. The front to back measurement is 18.5″, which is 3″ to 4″ less than most other church chairs. This is accomplished by designing the legs to set back under the seat cushion, while still giving full seat size comfort, 31⁄2 inches of dual-layer high density virgin foam and standard or optional dual lumbar back support. Celebration, a space saving, highly comfortable and ergonomically correct pew chair.
QUALITY YOU CAN TRUST! SAFETY YOU CAN MEASURE!
Space saving design provides big chair comfort in a smaller chair footprint allowing more chairs in a given area.
31⁄2″ dual layer high density commercial quality virgin foam for exceptional comfort and long life.
Heavy duty true 1″/16 gauge 1010 cold-rolled steel frame construction with 9/16″ cross members, 1″ weld lines and mandrel bends will support 1700 lbs. This is truly the strongest frame manufactured for sanctuary seating!
StaFast™ Steel-to-Steel, never slip fastening systems, test at 5X more holding power than wood screws and are stronger than Bos™ steel to plastic fastening system.
ChurchPlaza™ standard fabrics certified among the highest quality commercial fabrics available with longer wear, durability and MoistureBarrier™ treatment at no additional cost.
All chair fabrics laboratory certified in compliance with JIS 112, The Oeko-Tex 100 and American Textile Restricted Substances List regarding formaldehyde emissions.
16 highest quality chip resistant eight step electrostatic powder coating frame finishes for a lifetime of beauty.
The industry leading ChurchPlaza™ Trustworthy product warranty for your peace of mind.
Call today for your free sample chair
98% Recyclable since 1988