Pulpit Chair Model 800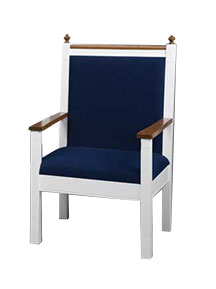 Pulpit chairs from the Model 800 Series offers a colonial two-tone style for contrast. The Pulpit Chairs are white with stained caps and armrests for maximum contrast and beauty. Chairs sold individually, two sizes to choose from 48″ tall or 44″ tall with a 27″ wide x 21″ depth seat and an optional crown back. Matching Pulpit, Communion Table and Flower Stand available in this series to add beauty to any setting.
For more information please call your sales representative at 800-927-6775.