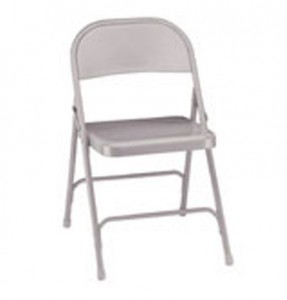 Church chairs come in many different shapes, sizes and colors. One of the most widely offered church chairs are metal church chairs. Metal church chairs are typically foldable, stackable, lightweight and convenient to manuever. Metal church chairs can be used in a limitless variety of applications including concert halls, stadiums, churches, places of worship, dining areas and classrooms.
The weight of metal church chairs is what makes them so convenient, they are versatile and durable in nature as well. Durability can be an issue for certain applications in which hundred's and thousand's of people sit in the metal church chairs over and over again.
WHY CHURCHPLAZA'S METAL FRAMES ARE THE STRONGEST STANDARD FRAMES AVAILABLE ANYWHERE IN THE WORLD ON CHURCH AND SANCTUARY CHAIRS!
Many company's claim to have the strongest church chair frame available. While it's pretty obvious everyone can't have the strongest frame, it remains important to your church to understand as much as they can about why one providers frame is stronger than another.
At ChurchPlaza we've been providing accurate information to churches about church seating and other quality church products for decades. Our ministry and responsibility is to assist your church in making good purchasing decisions. That's one reason why 47 national denominations, ministries and/or their publishing houses have endorsed and recommended us to their churches. We are the trusted provider!
Here is why ChurchPlaza's metal chair frames are the strongest available anywhere!
We only use the highest quality 1010 carbon steel in our frames. In today's competitive church seating market, one way for providers to save money is to allow less than top grade steel to be used in their products. After all, it costs more money to produce top quality steel. Many manufacturers today buy their steel on the basis on the lowest priced raw steel available, but not ChurchPlaza!Ask your chair provider if they can identify the company where steel for their chairs is made. The odds are they can't because the purchasing decision was probably made to save money or they are simply buying containers of inexpensive chairs at the lowest bid price and then reselling someone else's chair to you as a quality chair.…….and that isn't in your churches best interest.
ChurchPlaza's church and sanctuary chairs us a TRUE 1 inch 16 gauge steel (not the weaker 18 gauge which is 30% weaker than TRUE 1 inch 16 gauge).
Another trick some manufacturers will use is to provide a 1 inch steel frame with a thinner wall of the steel tubing saying it is a 1 inch frame…..but it isn't TRUE 16 gauge steel. This borders on misrepresentation and rarely does a church really know what they are getting….or rather not getting.
ChurchPlaza uses full 1 inch quality welds on our chairs. Many providers use spot welds or short welds. While this saves time and money for the manufacturer, it isn't in your church's best interests.
Cross bar supports on ChurchPlaza's church and sanctuary chairs is 9/32 and fully welded to the frames. If you look closely, you'll see many other manufacturers using tubing or thin rods with spot welds. This is not in your church's best interest.
In summary, ChurchPlaza's frames ARE THE STRONGEST STANDARD FRAMES AVAILABLE ON CHURCH CHAIRS AND SANCTUARY CHAIRS. That is why they will support 1700 pounds or more and last a Lifetime.