Church Chairs
Churches today have many choices when it comes to purchasing chairs for their sanctuaries. Worship seating comes in a variety of sizes, prices, and comfort levels, with options that range from stackable church chairs to folding chairs and banquet seating.
Shop our wide selection of church chairs and pew chairs to find the right seating option for your congregation. Choose from wood or metal frames with optional chair arms. You can also customize your church chairs with features such as concealed/contoured back, adjustable ganging (for interlocking chairs), and padded or cushioned seats.
For 30 years ChurchPlaza has been the definable standard for quality church chairs and sanctuary seating in America. That is why 45 national denominations, fellowships, ministries, and/or their publishing houses have recommended ChurchPlaza to their churches.
Browse our complete line of church chairs and accessories.
Choosing The Right Chairs for Worship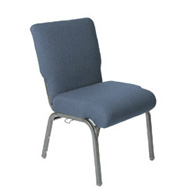 Churches today have many choices when it comes to purchasing chairs for worship. They come in many styles, sizes, levels of comfort, and prices.
Church seating can be folding chairs, banquet chairs, stacked seating, stackable chairs, and pews. At ChurchPlaza, we specialize in stackable chairs for your sanctuary.
These chairs have many advantages over other types of worship seating:
Increased Capacity: An average chair in 20 inches wide, whereas pew occupants tend to take up 24 inches. This is a 20% increase in seating capacity!
Increased Flexibility: With stackable chairs, you can easily re-arrange and repurpose your space for events and more. It's even easier to accommodate those with disabilities like wheelchairs.
Increased Comfort: Your congregation won't be hoping for a short sermon if they're sitting comfortably. Many chair designs are ergonomic and designed for comfort as well as durability.
Increased Savings: Chairs are typically priced in the mid $30's to $50's per 20in seat, while pews cost $65+ per lineal foot
The High Cost of Cheap Church Chairs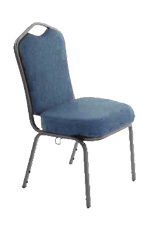 Today there is a surge of cheap church chairs available on the Internet. These cheap options are generally made with the lowest quality components including imitation wood particle foundations, low quality foam and fabric, weaker steel foundations, poor workmanship, and inferior or sometimes unenforceable warranties.
These lower quality components make it possible for many warehouse resellers to offer chairs at low prices. But at the end of the day, cheap church chairs will end up costing a church much more than a high quality and value priced church chair.
ChurchPlaza's Pledge To You
We offer the Best Value Series to provide a comprehensive selection of very affordable chairs. ChurchPlaza offers many church chairs with affordable pricing while also providing the highest quality standards in the industry. We provide our customers with the strongest steel, highest quality foam and fabrics offered in the industry. At ChurchPlaza we have set the standard high for our products and we stand by it.
We invite you to get in touch and request a sample chair to test out our products for yourself.