Genesis Chair
MoistureBarrier™ Fabric Treatment to protect your chairs from spills and accidents now INCLUDED AT NO ADDITIONAL COST ON ALL OF OUR FABRIC CHOICES.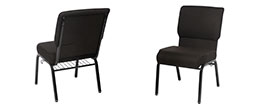 Continuous pew like seating surface when ganged together.
MAS Certified, Safe and True Components.
ChurchPlaza was the first worship seating provider to test and certify our worship chairs components for TrustWorthy™ safety to protect your health and well being.
Quality industrial grade plywood foundations are CARB 2 certified, safe from cancer causing formaldehyde emissions and compliant with US Composite Wood Products Act.
All foam is certified free from formaldehyde and certified to have non-detectable levels of emission levels from TDCPP (known cancer causing agent used in some fire retardants) and in compliance with California Proposition 65.
All chair fabric is laboratory certified in compliance with JIS 112 , The Oeko-Tex100 and American Textile Restricted Substances List regarding formaldehyde emissions.
StaFast™ Steel-to-Steel, never slip fastening systems, test at 5X more holding power than wood screws and are stronger than Bos™ steel to plastic fastening system.
ChurchPlaza™ standard fabrics are certified among the highest quality commercial fabrics available with longer wear, durability and MoistureBarrier™ treatment at no additional cost. We provide certified fabric specifications with every proposal for your peace of mind.
16 highest quality chip resistant eight step electrostatic powder coating frame finishes for a lifetime of beauty.
The industry leading ChurchPlaza™ Trustworthy product warranty for your peace of mind.
Generous Full 20.5" Width with Deep 17.5" Seat Depth for Exceptional Roominess and Comfort.
Extraordinary Roomy Comfort, Durability, Style and Value describe our Genesis Chair.
With contemporary styling, 3½ inch of dual layer virgin foam support and rolled front suction for extra comfort, the Genesis Chair provides exceptional roominess and comfort with continuous pew like surface seating when ganged with other Genesis Chairs… and all at an exceptional value!
Genesis Arm Chair
The Genesis Arm Chair is America's great church chair value providing exceptional comfort, generous surface area, highest grade components and backed by ChurchPlaza's best-in-industry warranty and reputation.