This year American churches will purchase about 1.5 million seats in the form of church chairs, sanctuary seating, pews and theatre seats. Unfortunately, too many of these churches are uninformed about what to look for when buying church seating or how to evaluate those providing worship seating. Many church chair and worship seating providers will play upon this lack of information and focus their advertising and sales pitch on low prices and quick sales, regardless if it is in the best interest of the church or not. Here's what you need to know about church seating to make an informed purchasing decision.

Pews Versus Chairs
Today nearly 85% of seating purchased for new church construction and renovation is stackable, upholstered metal frame chairs. Pews and expensive theatre seating made popular by the "mega-church" boom of recent years have rapidly declined in popularity. There are many reasons for this trend. Pews are expensive and comparatively uncomfortable, while theatre seats can cost three to five times that of an equally comfortable and durable quality stackable chair designed for sanctuary use. Further, because both pews and theatre seating are anchored to the floor, your space is not able to be multi-purpose. While there are many providers of chairs for worship and sanctuary use, not all provide the same quality of products. Here is a quick checklist of what your church should look for in a quality church chair or seating for your sanctuary.
Learn more about Church Chairs vs. Pews.
Church Chair Anatomy
Frames
Made of True 16 gauge heavy-duty cold-rolled steel – not the 30% weaker 18 gauge (the higher the gauge the weaker the steel). Free from rust. Remove the floor glide from the leg of the chair and run your finger inside and look into the barrel. Poorly prepared steel will bleed rust in coming years and may have started already on a new chair. Painted with high quality, laboratory-certified-safe from lead and other toxic chemicals. The paint should be electrostatic applied powder coating. Must come with at least a 25-year to lifetime warranty on the entire frame and not just the welds.
Fabric
All fabrics should be certified in writing by a third party or fabric manufacturer as to double rub wear ability with a minimum of 100,000 double rubs per the Wyzenbeek test. Fabrics should be laboratory certified free from dangerous formaldehyde emissions and meet or exceed all government and industry standards for safety.
Foam
ALL Foam should be high density, quality, commercial-grade and laboratory certified free from dangerous formaldehyde and TDCPP (fire retardant) emissions. In addition, it should be certified to meet or exceed all appropriate state fire code standards.
Foundations
Foundations should be high quality industrial grade real plywood (and not cheaper/weaker imitation particle board) or quality Polymer foundations secured to the frame with the use of quality T-Nuts to assure long problem free use.
Ask for Samples
Any reputable chair provider will have no problem sending a free sample chair to your church. If the chair provider will not send a sample, it is probably because they do not want your church to see just how poorly and cheaply made their chair is. Be careful if a provider won't send a free sample or warrant that if you order chairs that they will be exactly like the sample you receive. A common "bait and switch" tactic is where you'll be sent a chair "similar" to the sample, but not exactly like the one you are considering. Insist the provider assure you in writing the sample will match the chairs you wish to purchase.
At ChurchPlaza, the sample chairs we provide always match the chair you will get when you make your purchase – contact us for a free sample!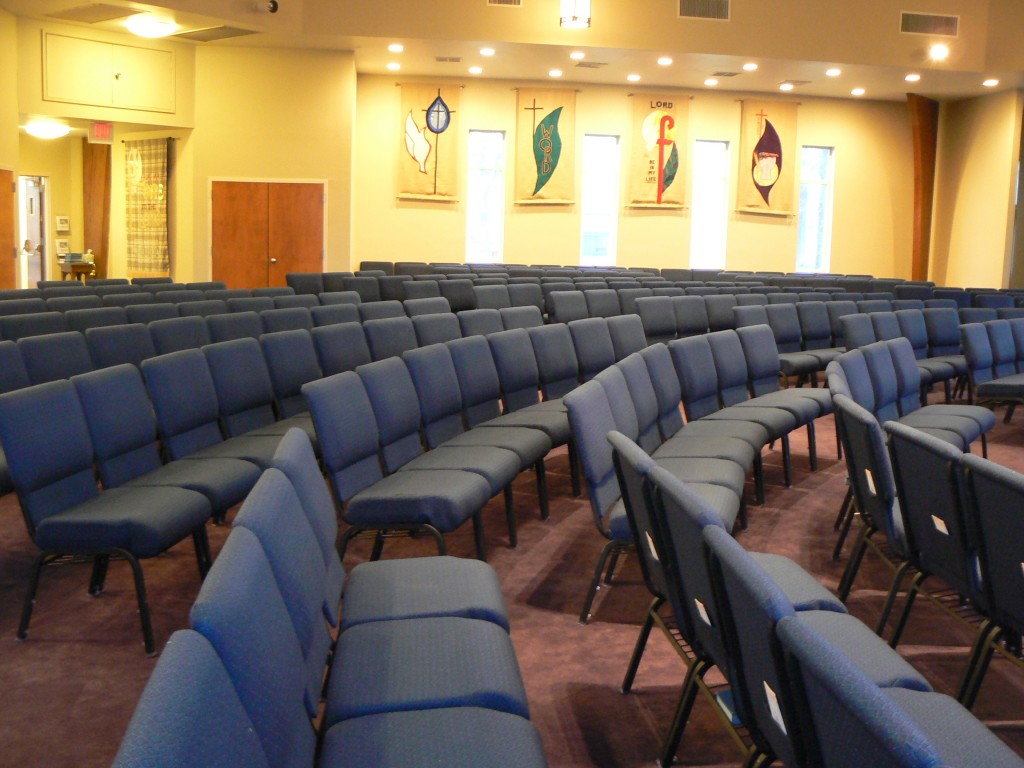 Ensure a Strong Warranty
Make sure you are receiving an easily understood chair warranty that will provide replacement chairs free of cost to you in case of problem. Be particularly careful of a requirement that your church pay for the shipping of the defective chair and the replacement. This game assures the chair provider you'll never exercise your warranty, as it would be more expensive to ship the defective chair than to simply replace it. A good warranty provides a chair frame lifetime warranty, workmanship warranty of 25 years and 10 years on foam and fabric.
Check the Providers Reputation
Limit your purchases to established chair providers with proven long term reputations for sourcing quality products, service, and integrity. Check their financial backgrounds to see if there are prior bankruptcies, financial improprieties or failure to deliver paid-for products. Be particularly wary of stocking warehouses providing discount chairs as their business model is based upon acquiring the cheapest chairs possible for resale.
Avoid these Dangers
Resellers
Today there are many providers of seating for churches, but not everyone is created equally or does business in the same way. While some focus on providing quality products and service, others rely on re-selling the least expensive chairs possible, banking on the inexperience of most churches when buying church seating. This contrast in quality is most evident with stocking warehouses that re-sell cheap chairs designed and manufactured by someone else. In addition to poor chair quality are potential problems with warranties and service after the sale.
Safety Measures
Only buy chairs that have their components certified by 3rd party laboratories for safety. Without that assurance, church chairs and sanctuary seating foundation, foam and fabrics could likely emit dangerous levels of formaldehyde and TDCPP, both cancer-causing agents. ChurchPlaza was the first provider of church chairs to have laboratory certified that all components used in the manufacturing of their chairs meet or exceed all International, US, State and Association regulations and guidelines regarding the emission of proven dangerous carcinogenic fumes (including those associated formaldehyde and TDCPP).
Cheap Chairs and Discount Suppliers
Add up the total cost of the chairs to include component upgrades and shipping. THEN ask yourself if a couple of dollars per chair are worth not having the assurance of quality, safety and warranty that a cheap no name church chair lacks. Chair manufacturers from all over the world often contact us seeking our business. As we have our own proprietary designs and very high standards, the manufacturer is usually not set up to manufacture chairs at our standards. Read more about what happened when one of these manufacturers sent us a sample chair.
A Final Word
Your church's chair purchase is a major investment. Seating is a major capital expenditure and deserves careful consideration. If done properly your church will enjoy many years of comfortable and trouble free use. If not done carefully, the result will be frustration, disruption in your ministry and the loss of thousands of dollars.
Visit our selection of church chairs and request your free sample chair today!