This year American churches will purchase about 1.5 million seats in the form of church chairs, sanctuary seating, pews and theatre seats. Unfortunately, too many of these churches are uninformed about what to look for when buying church seating or how to evaluate those providing worship seating.
Many church chair and worship seating suppliers will play upon this lack of information and focus their advertising and sales pitch on wholesale prices and quick sales, regardless if it is in the best interest of the church or not. Here's what you need to know about church seating to make an informed purchasing decision.
Pews Versus Chairs
Today nearly 85% of seating purchased for new church construction and renovation is stackable, upholstered metal frame chairs. Pews and expensive theatre seating made popular by the "mega-church" boom of recent years have rapidly declined in popularity. There are many reasons for this trend:
Pews are comparatively uncomfortable

Pews are expensive, and theatre seats can cost three to five times that of an equally durable quality stackable chair designed for sanctuary use 

Because both pews and auditorium seating are anchored to the floor, your space is not able to be multi-purpose.
While there are many providers of chairs for worship and sanctuary use, not all provide the same quality of products. Here is a quick checklist of what your church should look for in a quality church chair or seating for your sanctuary.
Learn more about Church Chairs vs. Pews.
Church Chair Anatomy
Frames
It's best to get frames that are made of True 16 gauge heavy-duty cold-rolled steel. Stay away from 18 gauge steel, which is 30% weaker (the higher the gauge, the weaker the steel). And the chair must come with at least a 25-year to lifetime warranty on the entire frame — not just the welds.
Closely inspect the frame to make sure it's free from rust. Remove the floor glide from the chair leg, run your finger inside, and look into the barrel. Poorly prepared steel will bleed rust in coming years and may have already started on a new chair.
The chairs need high-quality paint that's laboratory-certified-safe from lead and other toxic chemicals. The paint should be an electrostatically applied powder coating. 
Fabric
All fabrics should be certified in writing by a third party or fabric manufacturer, ensuring double rub wear ability with a minimum of 100,000 double rubs per the Wyzenbeek test. Fabrics should be laboratory certified free from dangerous formaldehyde emissions and meet or exceed all government and industry standards for safety.
Foam
ALL Foam should be:
High density

Quality

Commercial-grade

Laboratory certified free from dangerous formaldehyde and TDCPP (fire retardant) emissions

Certified to meet or exceed all appropriate state fire code standards
Make sure all the foam is virgin foam. This is very important because remanufactured foam will break down in half the time or faster.
Foundations
Foundations should be high quality industrial grade real plywood (and not cheaper imitation particle board) or quality Polymer foundations secured to the frame with the use of quality T-Nuts to assure long problem free use. Beware of the weaker strand board or artificial composites.

Ask for Samples
Any reputable chair manufacturer or company will have no problem sending a free sample chair to your church. If the chair provider refuses to do this, it's probably because they do not want your church to see just how poorly and cheaply made their chair is. Be careful if a supplier won't send a free sample or provide a warranty, stating the chairs you order will be exactly like the sample you receive.
A common "bait and switch" tactic is where you'll be sent a chair "similar" to the sample, but not exactly like the one you are considering. Insist the provider assure you in writing the sample will match the chairs you wish to purchase. While there's nothing wrong with a company asking for shipping charges to be borne by the church and then refunded if a purchase is made, offering a free chair affirms they are not fearful of having their chair compared to competitors.
Only buy from a provider that will send your church a free sample of the chair you are thinking of buying. Committee members can compare the sample side by side with other chairs you are considering for your church.
At ChurchPlaza, the sample chairs we provide always match the chair you will get when you make your purchase – contact us for a free sample!
Evaluate Quality and Comfort
If the seating provider does send you a sample, be sure to carefully evaluate the chair. Investigate the welding to see if it is done correctly. There should be welding on all sides of the metal rather than just a few. If the chair has a book rack, does it seem like it could hold enough without breaking? Purchasing new chairs only to have a welded spot give out is disappointing and wrong. Check the nuts and bolts. If they are wood or plastic then chances are they will not last as long as a solid steel fastening system.
Next, look into the foam. Determine the thickness and insist on virgin commercial foam and not reused foam. You may notice stains or writing if it is reused foam. Another piece to look for are the glides on the bottom of each leg. Self-leveling booted glides are a sign of quality while standard plastic glides may indicate cost cuts. These plastic glides are prone to break or fall off as the chair is used. This type of damage typically will not happen with the self-leveling glides as they have a different fastening system.
Lastly, have multiple persons of different sizes and body types sit in the chair for periods of time that are similar to your services. This will give you an idea of how comfortable the chair is.
Although larger seating may be more comfortable, you don't want to end up with chairs that won't fit in your facility properly. Make sure to factor in chair size when deciding on your layout and church chair spacing. At ChurchPlaza, we make this process easier by offering standard sizes for our chairs, as you can see in each model's specs.
If you need seating quickly and don't have enough time to sample and personalize your furniture, check out our quick ship Jericho chairs.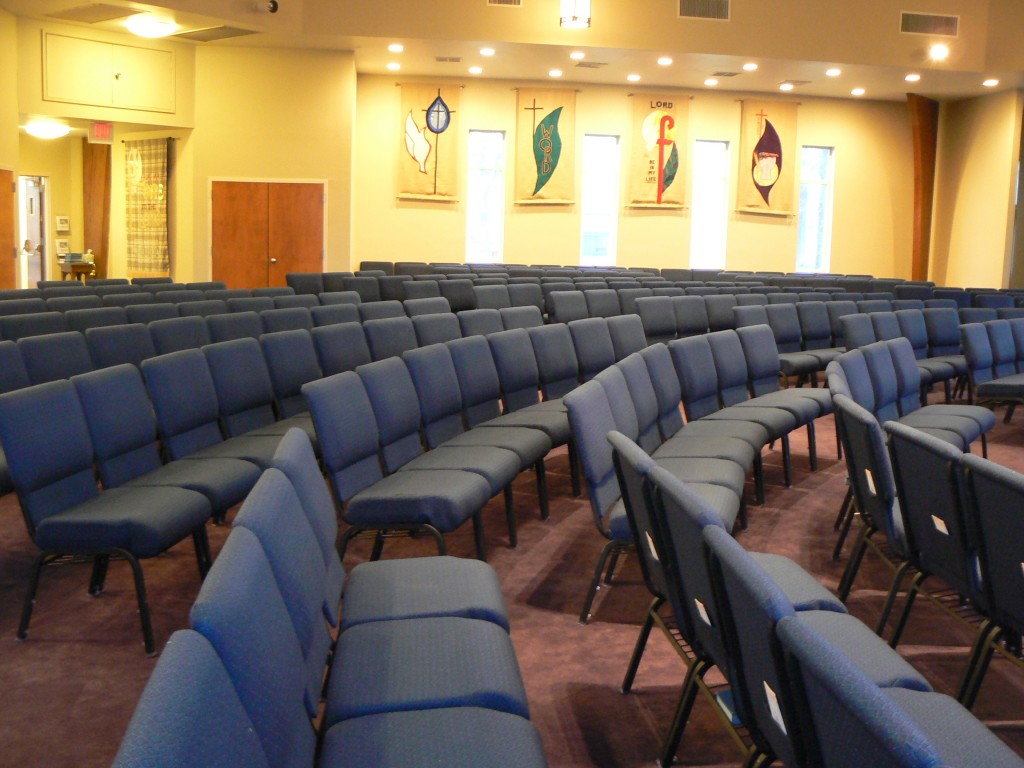 Review the Warranty
Make sure you receive an easy to understand chair warranty that will provide replacement chairs free of cost to you in case of any problems. Be particularly careful of a requirement that your church pay for the shipping of the defective chair and the replacement. This game assures the chair supplier you'll never exercise your warranty, as it would be more expensive to ship the defective chair than to simply replace it.
A good warranty provides a chair frame lifetime warranty, workmanship warranty of 25 years and 10 years on foam and fabric.
Check the Provider's Reputation
Limit your purchases to established chair providers with proven long term reputations for sourcing quality products, service, and integrity. Check their financial backgrounds to see if there are prior bankruptcies, lawsuits, financial improprieties or failure to deliver paid-for products. Find out how long they have been in business. Be particularly wary of stocking warehouses providing discount church furniture, as their business model is based upon acquiring the cheapest chairs possible for resale.
Finding the right company is more than just how the chairs look and feel. Knowing their business practices and level of customer service is important as well. Getting answers in writing is highly recommended as then you'll have a record of their claims. For any questions you may have about ChurchPlaza's products, please don't hesitate to contact us.
Avoid these Dangers
Resellers
There are many providers of seating for churches, but not everyone is created equally or does business in the same way. While some focus on providing quality products and service, others rely on re-selling the least expensive chairs possible, banking on the inexperience of most churches.
This contrast in quality is most evident with stocking warehouses that resell cheap chairs designed and manufactured by someone else. In addition to poor chair quality are potential problems with warranties and service after the sale.
Only buy from a well established and recognized supplier of church and sanctuary chairs – preferably one that has endorsements from many churches, national denominations and ministries. If possible, pick a provider who is responsible for the design and manufacturing of chairs for churches, not simply a reseller of someone else's chair.
Safety Measures
Only buy chairs that have their components certified by 3rd party laboratories for safety. Without that assurance, church chairs and sanctuary seating foundation, foam and fabrics could likely emit dangerous levels of formaldehyde and TDCPP, both cancer-causing agents.
ChurchPlaza was the first provider of church chairs to have laboratory certified that all components used in the manufacturing of their chairs meet or exceed all International, US, State and Association regulations and guidelines regarding the emission of proven dangerous carcinogenic fumes (including those associated formaldehyde and TDCPP).
Cheap Chairs and Discount Suppliers
Add up the total cost of the chairs to include component upgrades and shipping. THEN ask yourself if a couple of dollars per chair is worth not having the assurance of quality, safety, and warranty that a cheap no name church chair lacks. Chair manufacturers from all over the world often contact us seeking our business. As we have our own proprietary designs and very high standards, the manufacturer is usually not set up to manufacture chairs at our standards.
Read more about what happened when one of these manufacturers sent us a sample chair.
A Final Word
Your church's chair purchase is a major investment. Seating is a major capital expenditure and deserves careful consideration. If done properly your church will enjoy many years of comfortable and trouble free use. If not done carefully, the result will be frustration, disruption in your ministry and the loss of thousands of dollars.
Visit our selection of church chairs for sale and request your free sample chair today!
Updated February 24, 2023.