Are you looking to host church fellowship activities for your congregation or community? Here are ten ideas for church social events. From families with young children to single adults, these events are sure to appeal to a wide audience!
1. Community Meals
Meals are great for bringing people together. They can also be relatively inexpensive. For your church fellowship dinner, opt for foods that are easy to make and serve to a crowd, such as soup, pasta, or casserole. You could even make it a potluck and ask attendees to bring a dish to share.
A meal can take many different forms – it all depends on your goal. Are you trying to bring people together? A free community potluck is perfect. Need a church fundraising idea? Host a formal banquet and sell tickets. Recruit volunteers and solicit food or monetary donations from your church members to help offset the costs. If you're having the event in your church hall, use decorations, centerpieces, and tablecloths to make it special.
Remember to accommodate dietary restrictions by offering options for vegetarians, vegans, gluten-free individuals, and those with specific allergies. When they RSVP for the event, provide a way for attendees to indicate their dietary needs and food preferences.
2. Church Picnic
A church picnic is the perfect spring or summer fellowship activity. Great for kids, adults, and seniors – everyone can enjoy the outdoors while eating classic picnic foods such as sandwiches, salads, and chips. These foods are easy to make and relatively cheap.
You can make a church picnic as simple or detailed as you desire. Hire a band to play, add a few games for children, or just provide food and ask people to bring their own chairs and blankets. That being said, you can greatly improve the experience by providing seating. Plastic folding chairs are relatively affordable and easy to set up and take down.
Looking for event seating?
Shop Portable and Folding Chairs
3. Block Party or Festival
This fellowship activity works especially well for community outreach, but it requires more expense and planning. You'll want to provide food, entertainment, games, fair activities, and maybe even prizes. Local businesses may be interested in setting up booths, which can help lower costs. You may even be able to find a local band or DJ willing to provide entertainment in exchange for donations from the crowd.
These church events are best hosted outdoors in the spring, summer, or fall. Be sure to get the word out to the community through church social media, flyers, and word-of-mouth.
4. Vacation Bible School
Vacation Bible School (VBS) is a summer favorite for kids. This church youth event idea is geared more towards current members, but it could also be fun for community children.
VBS takes a bit of planning and coordination. You need to supply snacks and recruit volunteers to teach the children. Deciding on a theme is usually the hardest part, but there are plenty of curriculums available for purchase. A week-long VBS can include a variety of activities, like crafts and games as well as Bible stories and singing.
5. Holiday-Themed Activities
There are so many holiday-themed church activities you can host throughout the year. These are great for reaching out to young families in your neighborhood. Here are just a few things you could do to celebrate holidays at your church.
Christmas festival with food, crafts, and a visit from Santa
Nativity play (encourage children to participate)
Christmas bazaar – sell Christmas decorations, crafts, and baked goods
Easter egg hunt with prizes or candy inside the eggs
Community Easter meal
Easter candy sale
Harvest festival – decorate pumpkins, have a bonfire and/or hayride
Halloween Trunk or Treat – church members hand out candy from decorated car trunks

Pumpkin decorating party (carving can get messy, so decorate the pumpkins with paints, stickers, glitter, and materials, like felt or construction paper)

Thanksgiving meal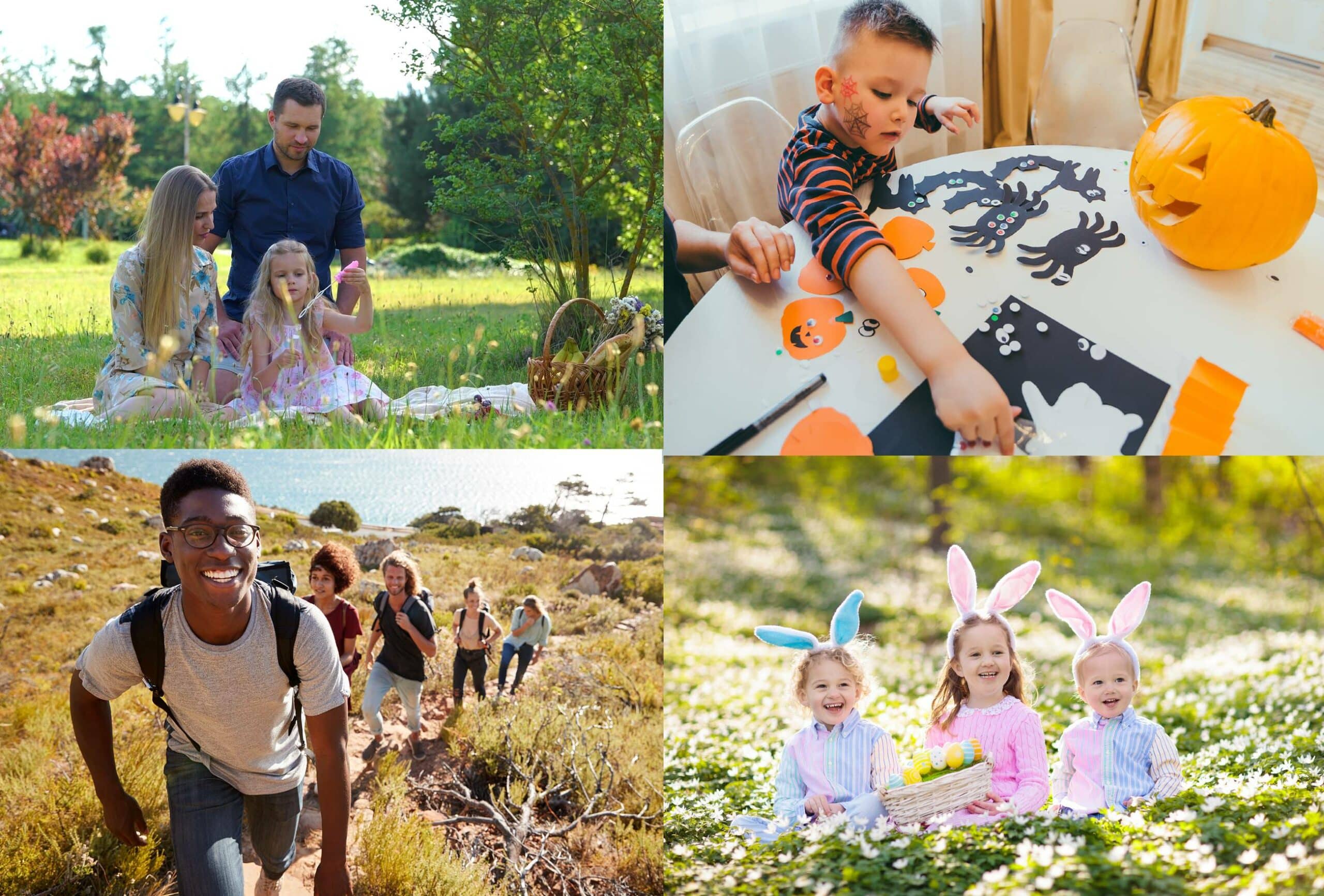 6. Community Yard Sale
A community yard sale is an idea that will cost your church almost nothing. Members of the church and community donate items to sell and volunteers sort through them and set prices. Try to keep prices low to draw in more visitors. The only investments required for this church event are volunteer hours and folding tables to hold all the items.
Need folding tables for your church?
7. Concert
Everyone appreciates music. Why not host a local artist at your church? You could also have your praise and worship band play, but that might not appeal to the wider community. If you have the proper equipment, a concert lets you put your church's audio and visual equipment to good use outside of your weekly worship service!
8. Date Night for Parents
Your church probably has a lot of couples with young children. Provide free babysitting on a weekend so parents can enjoy a night out! You could also expand this church event to the local community if your goal is outreach.
9. Movie Night
Movie nights are always popular, but be aware that you must buy a public performance license for the movie you want to show. Movie nights can be adapted to a range of age groups and demographics. Just choose a movie to fit the theme of the night.
Provide refreshments and snacks (like popcorn and candy) for attendees to enjoy during the movie. Or, you could incorporate a potluck-style event where people bring their favorite treats to share.
10. Outdoor Activities
There are a wide variety of outdoor activities you could plan, including:
Service project, like cleaning up a park or planting a tree or community garden

Hiking trip or nature walk

Beach or lake day (this might include swimming and beach games as well as

paddle boarding

or kayaking)

Camping trip or campfire gathering

Sporting tournament (like

soccer, softball, basketball, volleyball, or flag football), or attend a local sporting event as a group

Scavenger hunt
Whenever possible, utilize facilities in your local area. In other words, a fun day at a local lake may be easier to plan than a volleyball tournament at courts that are further away. If you don't have to organize transportation, more people can join in on the fun. Try to make your fellowship activity as inclusive and accessible as possible.
A Few More Fellowship Activity Ideas
Before committing to an activity idea, gauge the interest and preferences of your church community with a survey, focus group, or social media poll. This will help ensure that the event aligns with the needs and desires of the congregation, making it more likely to be well-attended and enjoyed by participants. 
Here are a few more ideas to consider:
Volunteering together at a local shelter or food bank

Weekend retreat

Book club

Talent show

Art classes

DIY workshops

Seminar series

Back-to-school carnival or school supply drive
How to Host a Successful Fellowship Event
Each event will require different amounts of planning and investment, but there are a few things that every church needs to pull off a great event.
Volunteers
A dedicated team of volunteers is the backbone of any church activity.
Promotional Channels
An event is only as successful as its attendance. Try to find a date that doesn't conflict with any major events. For all types of church events, you want to get the word out through various promotional channels, including social media, paper flyers, and word-of-mouth.
Event Furniture
Almost every event requires seating and table space. This doesn't mean you have to spend a lot. Plastic folding chairs and tables are usually sufficient and will be quite affordable for your church. Plastic is weather-proof so you'll be able to use the furniture for both indoor and outdoor fellowship events.
Does Your Church Need Event Furniture?
ChurchPlaza's mission is to provide quality seating and furniture at reasonable prices. It's what we've been doing for over 35 years! If your church is in need of event seating or folding tables, we have everything you need at prices you can afford, with financing options available for churches that qualify.
Updated 6/12/23