Jericho PewChair™
Quick Ship Available
From $38.95
The Jericho PewChair™ is America's lowest priced quality built church chair with all the comfort, durability, and features you would expect on much more expensive seating!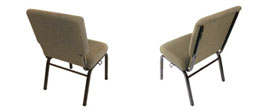 Long Lasting Comfort
The Jericho PewChair™'s 100% virgin foam 3″ seat is made for long-term wear with the added comfort and leg support thanks to the generous rolled front. The ergonomically designed dual lumbar support of the back adds to the comfort and value of this extraordinary chair.
Fabric and Stain Resistance
We provide the highest grade of commercial fabric; certified and warranted to be stain resistant and provide years of durability and good looks. In fact, the MoistureBarrier™ Fabric Treatment is included at NO ADDITIONAL COST for all of our fabric choices. This patented technology is done to protect your chairs from spills and accidents for a lifetime.
Quality you can trust! Safety you can measure!
Our Jericho church chairs include all of the following features allowing you to have peace of mind knowing that your sanctuary chairs are built to last.
Cold-Rolled Steel Frame: Heavy duty true 1 inch/16 gauge 1010 cold-rolled steel frame foundation with 9/16 inch cross members, 1 inch weld lines and mandrel bends will support 1700 lbs. This is truly the strongest frame manufactured for sanctuary seating!
High Quality Plywood: Real Industrial Grade ½ inch CARB 2 Certified plywood foundation and seatback is stronger and stiffer with superior holding power than particle board, strand board, or imitation plywood (Multi-Ply™/OSB) as reported by Georgia-Pacific Building Products.
Steel (not Plastic) Fasteners: StaFast™ Steel-to-Steel never slip fastening systems test with 5X more holding power than wood screws and stronger that Bos™ steel to plastic fastening system and never work loose.
Certified MoistureBarrier™ Fabric: ChurchPlaza standard fabrics certified among the highest quality commercial fabrics available with longer wear, color fastness and durability and MoistureBarrier™ treatment at no additional cost. We provide certified fabric testing results with every proposal for your peace of mind.
Tested Fabrics: All chair fabrics laboratory certified in compliance with JIS 112, The Oeko-Tex 100 and American Textile Restricted Substances List regarding formaldehyde emissions.
New (not recycled) Foam Seat: High Density 100% 3″ dual density Virgin Commercial grade Foam seat cushion with plush rolled front for roomy comfort and leg support. 18″ and 22″ wide seats available upon request.
Long-Lasting Finish: Highest quality chip resistant eight-step electrostatic powder coating frame finishes for a lifetime of beauty.
A large selection of fabrics and frame colors to choose from.
The ChurchPlaza™ Trustworthy product warranty for your peace of mind.
Jericho Arm Chair
Our Jericho PewChair™ is also available as the Jericho Arm Chair and is created with all the same high quality standard features as the Jericho Church Chair but with fantastically supportive and strong chair arms. Our sales staff can help you decide on which seating options will be best for your facility.