From $814.05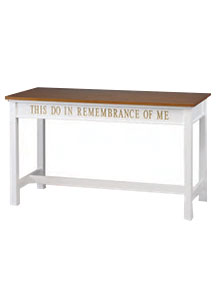 This open style communion table features an eye-catching colonial two-tone. The front of the altar features "THIS DO IN REMEMBRANCE OF ME" etched in gold-colored letters. Matching pulpit chair, pulpit, and flower stand available.
Dimensions: 54″L x 22″D x 32″H
Interested in this offering table? Get in touch with a ChurchPlaza representative.