From $487.50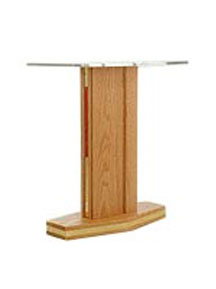 The Evangel & Messenger Flower Stand is beautifully crafted from solid oak, acrylic, and polished brass with a unique design that match the legs of the Evangel and Messenger pulpits. It was designed to be stylish and easy to move so that you can arrange it any way you like in your sanctuary.
Church Flower Stand
Its clean lines and transparent top create a great backdrop for showcasing the inherent beauty of flowers.
For more information on our church flower stand, please call our sales representatives at 800-927-6775 or submit a contact form on our website.