From $2,862.77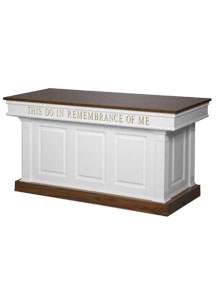 The Model 8201 is one of our most elegant communion tables. Handcrafted using dentil mold, routed windows, and fluted sides, and featuring a colonial two-tone for contrast, this is sure to be the centerpiece of your sanctuary. Comes with a closing door in the back. Available in light, medium or dark stains.
Dimensions: 32"H X 60"W X 24"D
Stylish Communion Table Furniture
This table has a design that invites contemplation, craftsmanship that speaks of devotion, and a presence that fosters a sense of community among congregants.
Matching pulpit chairs, pulpit, and flower stand are available to complete your setting. To learn more, call 800-927-6775 or complete a contact form.