From $1,799.94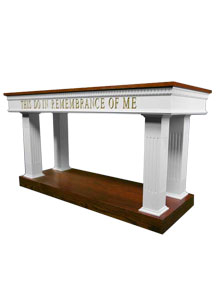 This open-style communion table features a dentil mold and fluted legs. The colonial two-tone style pictured here gives the table a gorgeous contrast. Also available all-stained with light, medium, or dark stain.
Dimensions: 32"H X 60"W X 24"D
A Classic Church Communion Table
Elevate your worship space with the open-style church altar that invites people in. Its design evokes a sense of reverence and tradition, inviting congregants to partake in a communion experience that bridges the gap between past and present.
With its classic design, this table can seamlessly blend into a variety of worship environments. Get in touch with us at 800-927-6775 or submit a contact form on our website to learn more.