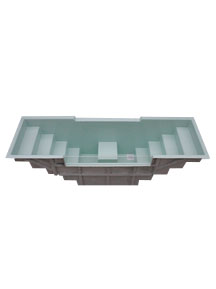 Dry Pastor Fiberglass Baptistry allows the Pastor to stay dry while immersing the baptismal candidate. Equipped with a built in seat and a recessed lip the dry area allows the Pastor to lean over the back wall and baptize the baptismal candidate from a secure seated position.
Various configurations to choose from left, right or either side entry available. Various colors to choose from: aqua, white, sand, blue, off-white and colonial cream.
Fiberglass reinforced polyester to prevent warping of surface panels. Unit has a smooth UV resistant high-gloss polyester gel-coat finish. Optional view window available.
For more information please call your sales representative at 800-927-6775.