From $420.17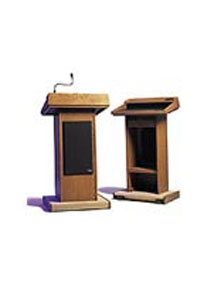 Featuring rich oak surfaces along with a solid oak trim, this Complete Admiral Lectern Package is AC powered. It includes a Liberty Sound System that fits into the console and connects to your PA system via an XLR jack. The complete Admiral Lectern package includes a mic and Shock Mount.
Lectern that comes with a Sound System
Whether used for lectures, speeches, sermons, or public speaking events, the speakers and lectern fit seamlessly into various settings. Its presence commands attention while offering functional convenience.
If you have any questions, please give us a call at 800-927-6775.