From $718.59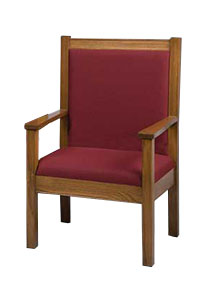 Our Model 400 Pulpit Chair offers a classic design that is available in light, medium, or dark stain. Choose from a variety of upholstery fabric colors to match your church's sanctuary. Chairs sold individually in either 48″ height or 44″ height with a 27″ wide x 21″ depth seat and optional crown back.
Classic Pulpit Chairs
The chair's design seamlessly integrates with traditional worship spaces. We also offer a matching pulpit, communion table, and flower stand in the Model 400 series. For more information, please call our sales representatives at 800-927-6775 or submit a contact form on our website.