From $875.38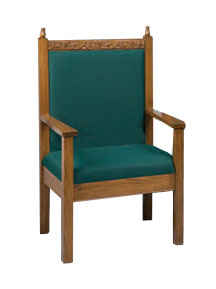 The grape and leaf mold across the top of this church pulpit chair offers a touch of elegance for your sanctuary. Available in light, medium, or dark stain with a variety of upholstery fabric colors to choose from. Chairs sold individually, with two sizes to choose from: 48″ tall or 44″ tall with a 27″ wide x 21″ depth seat and an optional crown back.
Traditional Church Pulpit Chairs
Crafted from carefully chosen quality materials, the chair ensures both sturdiness and lasting beauty. A matching pulpit, communion table, and flower stand are also available. Contact our sales representatives for more information.