Pulpit Chair Model 8200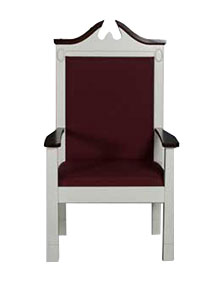 Pulpit chair from the Model 8200 Series is highly decorated with accents and moldings. Available in colonial two-tone style or all-stained with light, medium or dark stain. Chairs sold individually, two sizes to choose from 48″ tall or 44″ tall with a 27″ wide x 21″ depth seat. Matching Pulpit, Communion Table and Flower Stand available in this series to add beauty to any setting. The Pulpit and Communion Table in this series comes standard with a closing door in the back.
For more information please call your sales representative at 800-927-6775.