From $2,214.29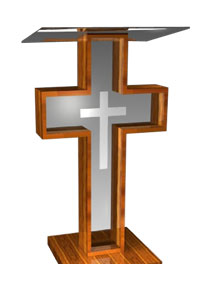 This unique pulpit is built in the shape of a cross. Featuring a plexiglass interior in a wood frame and a plexiglass top, it's sure to stand out in your sanctuary.
Product Features:
Solid oak
Full acrylic in Cross Acrylic Face

⅜"

Acrylic top ½" (32″ wide)
40″ Tall
Shipped unassembled with tools
For more information on this cross shaped pulpit, please call our sales representatives at 800-927-6775, or submit a contact form on our website.