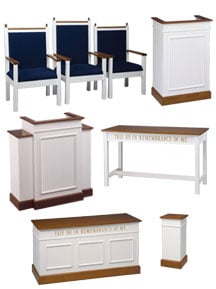 This pulpit furniture set features a colonial style two-tone for added contrast. The pulpit chairs are white with stained caps and armrests for maximum contrast and beauty.
The pulpit and communion table are handcrafted using cove molds and applied moldings, which create the beautiful window effect. Complete your sanctuary with these essential items!
The furniture is also sold separately if you wish to order individual pieces. Contact us on our website or call toll-free at 800-927-6775.