From $5,969.12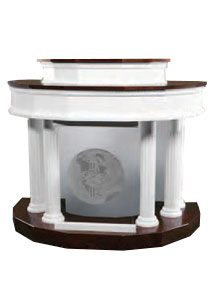 This handcrafted, custom-built pulpit is our most elegant option. Its design can be tailored to your unique vision and worship space. 
The pulpit pictured here illustrates the two-tone colonial style.
A Custom Pulpit
Collaborate with our skilled artisans to bring your vision to life, ensuring every detail aligns with your aspirations. Whether you envision a grand centerpiece or a subtle addition to your worship space, we can create a piece that fits perfectly with your church sanctuary.