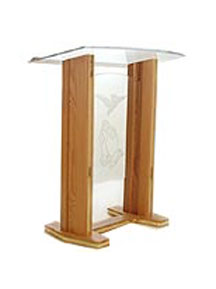 The Messenger Pulpit was designed to be open, stylish, and easy to move. Posts and base are inlaid with brass. Top is made of durable ½″ clear acrylic and is 40″ high at the book rail. Your congregation will naturally feel closer to you, not separated by a large wooden pulpit. Matching communion table and flower stands are available.
Dimensions: ½″ clear acrylic top measures 38″ x 20″. Stands 40″ high at the book rail.
For more information, please call our sales representatives at 800-927-6775, or contact us on our website.