From $1,464.29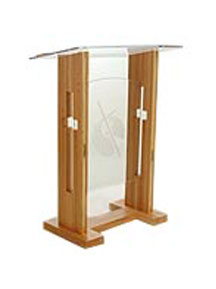 The Tribute Pulpit features solid red oak legs and base, brass trim, and an acrylic top. Beyond its visual appeal, the church pulpit's acrylic construction symbolizes clarity of communication, removing barriers between the speaker and the congregation. Engage your congregation in a space that encourages attentive listening and fosters a sense of openness and connection.
Church Podium Features
Acrylic top measures 24″ x 19″
18″ x 18″ base
40″ tall
To learn more about the Tribute Pulpit, call 800-927-6775 or fill out a form on our website to get in touch with a representative.