From $396.00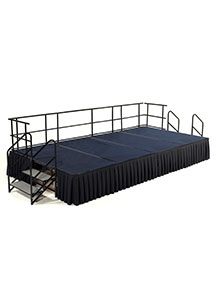 This single height portable stage is easy to transport yet stable. It's outfitted with ganging to easily connect multiple stages. All ganging devices are permanently secured to each unit. Perfect for concerts, graduations, and other performances and ceremonies.
Features:
Constructed with 3/4″ solid plywood core
Available with carpet in choice of 4 colors or 1/8″ thick tempered hardboard
Equipped with drop-in couplings that allow units of same or different heights to be joined together
Available in 36″ or 48″ widths
Comes in 4 heights 8″, 16″, 24″, and 32″
3 step heights available to connect to 16″H Stages and above
Skirting available for all stages in 2 styles: shirred pleat and box pleat
Optional 14-gauge guard rails available
To learn more about our portable stages, call us at 800-927-6775 or contact us through the ChurchPlaza website.