From $332.64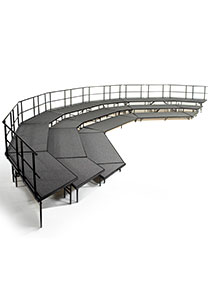 Portable Choral Standing Risers are easy to set up, allowing for quick arrangement to meet your needs. Units easily attach to one another to provide multi level heights. Available in both straight and tapered units, allowing for continuous or semi-circle arrangements. Optional side guard rails are available in three height levels.
Features:
Constructed with 3/4″ solid plywood core
Available with carpet in choice of 4 colors or 1/8″ thick tempered hardboard
All ganging devices are permanently secured to each unit
Comes in 4 heights: 8″, 16″, 24″, and 32″
If you're interested in standing risers for your church or event space, our sales representatives are available to assist you at 800-927-6775. You can also contact us on our website.