Pulpit and Chancel Furniture Series Model 820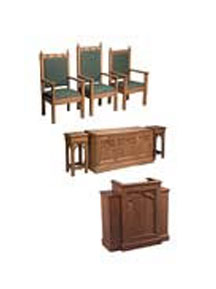 Pulpit and Chancel Series Model 820 illustrates an elegant two-tone colonial style for added contrast. Custom Hand-Crafted Pulpit, Communion Table and Flower Stand are decorated with dentil mold, include fluted legs and have routed windows in lieu of applied moldings. The Pulpit Chairs are white with oak stained caps and armrest for maximum contrast and beauty. Variety of product offerings available individually: Pulpit Chairs, Pulpits, Communion Table and Flower Stands.
For more information please call your sales representative at 800-927-6775.