From $464.29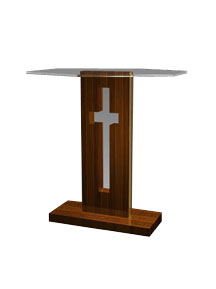 This solid oak flower stand was designed to match our Tribute Pulpit. Featuring brass trim, acrylic top, and the outline of a cross, it's sure to be a beautiful addition to your sanctuary furniture.
Product Features:
Matches Tribute Pulpit
½" thick acrylic top measures 16" X 18"
21" tall
Shipped unassembled with tools
To order a Tribute Flower Stand for your church, contact a ChurchPlaza sales representative.