From $1,928.57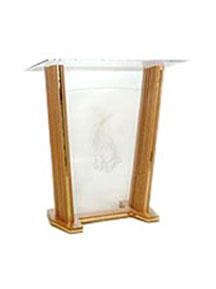 The Evangel Pulpit is made of top-quality North American Red Oak with Brass Trim. Crafted with meticulous attention to detail, this pulpit serves as more than a mere platform; it becomes a symbol of inspiration.
A Modern Church Pulpit
Whether placed at the center of your sanctuary or seamlessly incorporated into a smaller chapel, this modern pulpit adapts effortlessly to various settings.
This pulpit was designed to match the Evangel Communion Table. These pieces create a cohesive visual appeal that adds depth to your church decor, fostering a sense of unity and purpose.
If you have any questions, give us a call at 800-927-6775. Please allow 6 weeks lead time.