When you're in the process of buying church chairs or sanctuary furniture, you may run into some unfamiliar language. To help you make a more informed buying decision, we've put together a glossary of common industry terms.
What Are Church Chairs Called?
Church chairs are commonly called "pew chairs," especially if they interlock to form continuous rows. They may also be called worship chairs or sanctuary seating. But many people just refer to them as church chairs.
Common Church Chair Terms
Vendors often use terms that may be unfamiliar to you or your buying committee. Here are some brief definitions organized by chair part.
Frame and Foundations
Cold-Rolled Steel
When looking at chair frame specifications, you may see that some frames are made of cold-rolled steel. This refers to the process of shaping the metal. In cold rolling, steel is cooled to room temperature and then receives further processing (as opposed to hot rolled steel that is processed without cooling). This gives manufacturers more control over the size and shape of the finished product.
Electrostatic Powder Coating
This refers to a 5-step painting process where an electrostatic charge is applied to the powder particles. The powder coating is therefore bonded to the metal of the chair frame for a scratch and chip resistant finish. This is the same process that is used to paint motor vehicles.
Fastening System
The fastening system refers to the way chair components are held together. For example, the way the seat is held to the back of the chair. There are different types of fastening systems such as wood screws, steel-to-plastic, and steel-to-steel (T-Nut) systems. Overall, steel-to-steel gives you the strongest holding power – up to five times the amount of other systems – but it's common to see wood screws and steel-to-plastic systems in church chairs.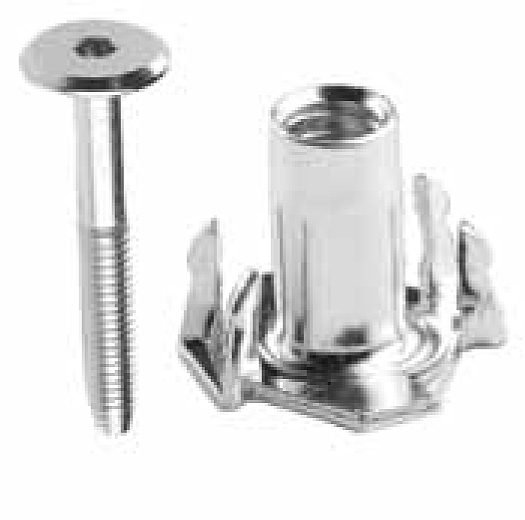 Did you know? ChurchPlaza pioneered the use of T-Nuts in church seating. Learn more about our fastening systems and other features included with our chairs.
Mandrel Bends
Mandrel bends are another term you'll come across with chair frames. If a chair has mandrel bends, that means a steel rod was inserted into the frame of the chair as it was being bent into shape. This is done to create smooth angles with no wrinkles in the frame.
Overall, the frame and foundation are perhaps the most important components of the chair. These are the "foundations" upon which the bottom and back supports are constructed. Many manufacturers will use "Strand Board" or another composite material for their chair foundations, but commercial plywood is the most durable material.
Seat and Back
Contoured Back
A contoured back is a chair feature that provides extra comfort and support. See an example of a church chair with a contoured back below: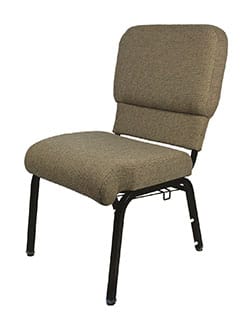 Virgin or Recycled Foam
You may come across the terms virgin foam and recycled foam when evaluating church chairs. Virgin foam means that the foam used in the seat is brand-new – it has never been used before. Recycled foam is made from old foam that has been used on other chairs. Virgin foam is far superior in both comfort and durability.
Waterfall Edge
Some church chairs feature a waterfall edge. This means the seat is rounded at an angle that reduces pressure on the legs. Ultimately, this makes for a more comfortable seating experience.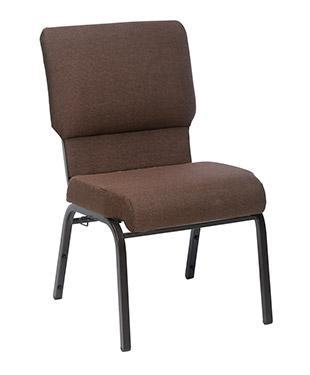 These ChurchPlaza models have a waterfall edge seat:
Additional Features
Ganging
Ganging refers to hooks on the sides of chairs that allow them to be connected together in a row. If you're looking for church chairs that hook together, ask for chairs with ganging.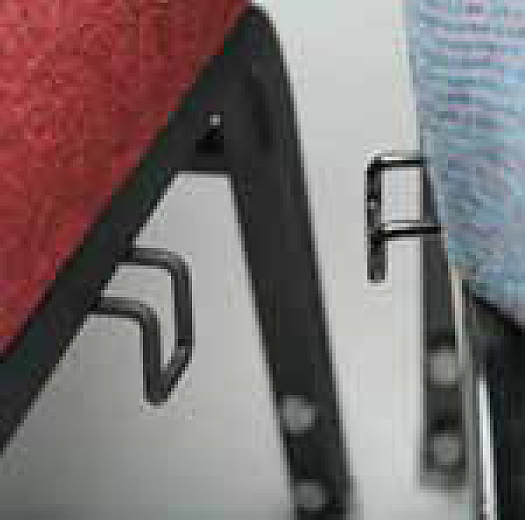 Stack Buttons
These are small rubber chair stack buttons that are placed on the legs of each chair to protect against scratches when the chairs are stacked.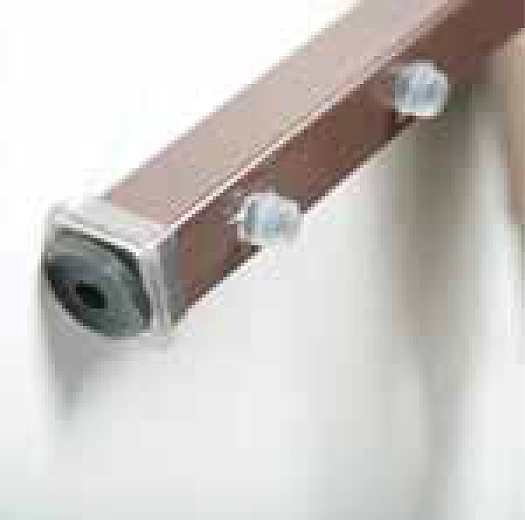 Floor Glides
Chair floor glides are put on the bottom of the chair legs to protect the floor from damage when chairs are slid or rearranged.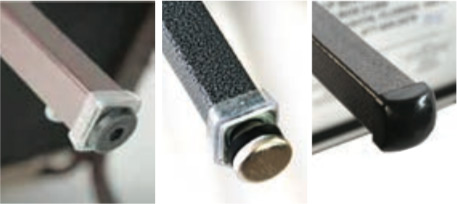 Chair Safety Certifications
When evaluating chair components, it's important to keep in mind safety. Some chairs emit dangerous, cancer-causing chemicals. Luckily, many governments and organizations have recognized this risk and developed safety certifications. Here are some common church chair safety certifications to look out for:
CARB Phase 2 Compliant

California Proposition 65 Compliant

ANSI / BIFMA Compliant

CAL 117 Certified

Wood used in the chairs complies with The Formaldehyde Standards for Composite Wood Products Act

Chair fabrics are compliant with the formaldehyde standards from JIS 112, the European Oeko-Tex100, and the American Textile Restricted Substances List
Still Have Questions About Church Chairs?
Contact our sales representatives if you have any questions about these or other church chair components. We are happy to discuss the chair specifications in detail. You can also call us directly at 1-800-927-6775.