From $45.23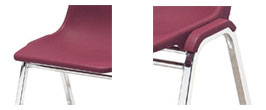 The Stacking Shell 8100 is a 98% recyclable chair we've been offering since 1988! The anti-static one-piece, high-density polypropylene shell is mounted on a 17-gauge 7/8″ square chrome steel frame, ensuring balance and stability.
Use these plastic stackable chairs in the dining room, classroom, lecture hall, or church fellowship hall. Crafted from high-quality polypropylene, these chairs are easy to maintain and built to withstand daily wear and tear. Their lightweight yet sturdy design makes them easy to move around. They weigh only 9 lbs and can be stacked 12 chairs high.
Want to cut down on set up and take down time?
These chairs fit perfectly with our DY900 and DY81 chair dollies.
Get Your Plastic Shell Chairs
The one-piece shell protects against snags and pinching and provides a comfortable seating experience. We have six colors in stock that are ready for shipment. Use them to match your decor or add a pop of color to a neutral room.
Contact ChurchPlaza today for more information on this chair model or our other products.