Stacking Shell Model 8100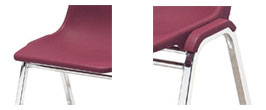 Stacking Shell 8100 – 98% Recyclable, since 1988!
Anti-static one-piece, high density polypropylene shell is mounted a 17-gauge 7/8″ square chrome steel frame. One piece shell protects against snags and pinching. Use it in the dining room, classrooms, or fellowship hall. Weighs only 9 lbs and can be stacked 12 high. Six colors in stock for ready shipment.