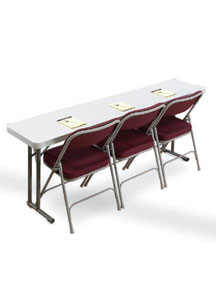 Lightweight blow molded seminar folding table. Lightly textured surface to resist scratching yet smooth enough to write on.
Features:
Speckled Grey Plastic Top with a Grey Textured Frame
16-gauge cantilevered comfort legs set 11″ from back of table, no more banged up knees!
2-inch thick top
Three sizes to choose from
Model BT1860 18″Wx60″L, 18-gauge strength frame
Model BT1872 18″Wx72″L, 18-gauge strength frame
Model BT1896 18″Wx96L", 17-gauge strength frame
Table carts available maximum capacity 12 Tables
For more information please contact your sales representative at 800-927-6775.