Stackable Church Chairs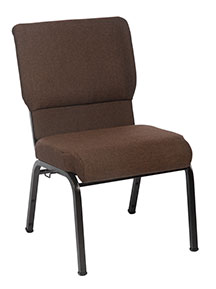 Stackable church chairs have become available for many uses. Stackable church chairs are defined as chairs that can be stacked up to ten or twelve high without becoming unstable. The typical use of stackable church chairs is for churches, auditoriums, and concert halls. Stackable church chairs are useful for their mobility; with a dolly, stackable church chairs are easily moved across a location.
Stacking church chairs are perfect for parties, church services, concerts, and other venues. Sometimes stackable church chairs are used during weddings. Stackable church chairs can be fabric, steel, aluminum, and wood. Upgraded materials can be found on more high-end stackable church chairs.