How To Choose & Compare Church Chairs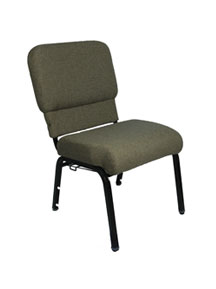 Chairs for church are very important when a new church comes into an area. Custom chairs for churches are available across the country. Chairs for church come in many wood stains and imperial wood stains. Amber, antique cherry, dark oak, fruitwood, harvest oak, medium oak, and walnut are just some of the custom chairs for church available nationwide.
HOW TO SELECT CHAIRS FOR CHURCH PROVIDERS:
A CHECKLIST TO PROTECT YOUR CHURCH!
Today, your church has more choices than ever regarding where to purchase your new sanctuary seating. On one hand, having a broad selection of providers is assuring. But how do you separate the wheat from the chaff, the quality from the cheap or the trustworthy from those who would exploit?
Unfortunately there are hundreds of churches that have made the wrong decisions resulting in the church receiving inferior products and/or simply loosing thousands of dollars that had been intended for ministry and God's work.
This overview is an unbiased and straight forward checklist to help assure that your church makes the best possible decision. Don't hesitate to ask these questions and expect answers. Be very cautious if there is any reluctance to provide you with written responses.
1) Verify the church chairs for church provider's reputation
How many years have they been in business? Can they provide references from churches in your area that have their products and are happy? Have they received endorsements or recommendations from national denominations and ministries? Have there been any formal complaints or lawsuits filed against them? Do they have a clear policy regarding customer problems?
2) Order a FREE sample from the provider
Virtually all reputable church chairs for church providers will provide a free sample chair for a legitimate church seeking to buy 100 chairs or more. Be wary if the provider won't do this.
3) Carefully review the components of the chair
What is the quality of the components? Specify the use of "ALL T-NUT STEEL TO STEEL" fasteners, TRUE 16 GAUGE steel in the chair base, FULL 1 inch weld lines, VIRGIN FOAM (not composite, filled or remanufactured foam), and CERTIFIED FABRIC SPECIFICATIONS exceeding standard industry standards. Be wary if the provider will not assure you in writing of these standards.
4) Are the sales representatives helpful, open and constructive
Be particularly careful of church chairs for church providers focusing on tearing their competition down rather than focusing on the quality of the chairs their firm provides. This is generally done to avoid comparing their chair with a superior product.
5) Does the church chairs for church provider give warranties that are reasonable and valuable
Buying church chairs for church can be a positive and fulfilling experience IF you choose the right supplier. Unfortunately, many churches have chosen the lowest price, received no sample and did not verify the company's reputation and suffered.
This checklist will help your church avoid many of those problems.